Theta-Meter Bluetooth, Bluetooth and USB e-meter in solocan
This device connects to Windows 8-11 PCs, Apple MacOS, Android phones and tablets 6.0 and later, iPhone 6 and later, iPad3 and later, Linux and ChromeOS using Bluetooth LE (Low Energy) including Bluetooth 4.0, 4.1, 4.2, 5.0 and later. Computers based on Windows 7-11, Apple MacOS, ChromeOS and Linux can be connected to this e-meter using a USB type C cable. USB connection is not recommended for Android tablets and phones.
Package includes
- Theta-Meter Bluetooth 4.2, bluetooth and USB e-meter in a solocan.
- USB type C cable
Additionally you can order an extra can, that allows you to work in dual cans mode for auditing a PC. Then you have two cans of the same size, as in a normal auditing situation. When you connect this can to the meter, the solocan becomes one single can and the additional can becomes another single can and both cans will work in duo cans mode. 
We do not supply a battery charger. Most users already have USB chargers or computers, so it was decided not to add a charger in the package.
Warranty
2 years (excluding battery)
Service life
The product has a lifespan of 5 years. During this period you will be able to have this unit repaired if necessary from the date of sale.
Theta-Meter Bluetooth 4.2 e-meter in a solocan features
Battery charge lasts up to 150 hours
Time of charging approximately 3 hours
Bluetooth version: 4.0 and 4.1 Low Energy 
Bluetooth PIN code: 000 000
Cans and leads
Cans coated with a thin layer of 99.99% pure tin. Tin is a soft metal and can be scratched with a fingernail or any hard object. For this reason, it is possible for the surface of cans and solo cans to be scored, scratched, and scuffed during fabrication.

The tin coating methods used do not allow the cans to be evenly coated with tin, so there may be areas of uneven coating with different thicknesses, color shades and smoothness of the coating on the surface of the cans.
Tin is easily oxidized by contact with the sweat of the hands, and the color becomes darker.
Permissible storage temperature of cans - from 0°C to +50°C. Long storage of cans at low negative temperatures can change the crystalline structure of tin and become brittle, do not allow long storage and transportation of cans at temperatures below -10°C.
Use a soft cloth and any alcohol-containing liquid to wipe off sweat stains on the cans.
Suported operating systems
This e-meter works via Bluetooth Low Energy protocol with Windows 8, 8.1, 10 and 11, Android 6.0 and above, MacOS, iOS 8.0 and above.
This device does not need drivers installed, the operating system detects it as a standard Bluetooth device.
When using USB connection, you can work with Windows 7, 8, 8.1, 10, 11, Android 6.0 and higher (not all tablets and phones support this method of connection), MacOS, ChromeOS, Linux.
Setup of Bluetooth connection
To work with iPhone, iPad and MacOS, Android 8.0 and higher there is no need to pair the device.
When working with Andoid version 6 and 7, activate Bluetooth module in the settings, select Theta-Meter BT4.2 in the available devices e-meter and enter code 000 000.
For Windows 8, 8.1, 10 and 11, click on Start, select Settings, Devices and then Bluetooth. Select Theta-Meter BT 4.2 and press the Link button, enter the code 000 000.
The antenna of the meter is in the front of the can (black cap). To ensure that the bluetooth e-meter connection is reliable and not interrupted, point the antenna of the device toward your smartphone, tablet, laptop or your desktop computer's bluetooth antenna. If you point the bluetooth e-meter antenna in the opposite direction, sometimes the e-meter connection may be interrupted and you may see a jerky or stopped needle on the screen of your device.
If Theta-Meter Pro program for Window does not see the device with the correct device settings in the program settings, run ble2.exe and close it before running the program. To check connection of meter to your computer use ble2.exe program. Close ble2 program before you start any other Theta-Meter program for Windows. Download
Video guide
Short instruction
To start the e-meter, press the blue button on the end of the device. If the device is working and charged, the green LED will flash.
To turn off the e-meter, press the power button and the device will turn off.
If the device is on and not paired with the Theta-Meter software on your device, it will turn off after a few minutes, this is to prevent the battery from running out of power.
To use the e-meter in duo cans mode, connect an additional bank, the device will switch itself to the desired operating mode.
To charge the device, connect the USB type C cable device to the USB port of a computer, laptop or wall charger. The red LED lights up while charging. Once the battery is fully charged, the red LED turns off or lights very dimly.
4G cellular network (LTE) signal can interfere with Bluetooth 4.0 LE devices, so when using only Bluetooth 4.0 enabled phones and tablets, it is recommended to disable LTE in the phone or tablet settings when using the e-meter.
Battery and replacement
The device uses a 14500 size, 3.7 volt, lithium-ion battery with no leads and no protection. Batteries with protection may be several millimeters longer than the standard AA battery holder length, so we do not recommend their use. Batteries must not have wires. An example of such a battery is EEMB LIR14500: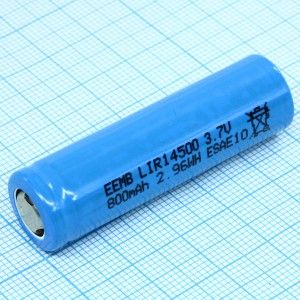 To replace the battery, unscrew the M3 screw that holds the battery cover and with slight twists from side to side, not more than 15 degrees on either side, pull the cover out and remove the old battery. Insert the new battery, put the cover back on and tighten the screw. Be careful, if you rotate the cover too much, you may damage the contact wire soldered to the inner edge of the can and the e-meter will malfunction. If the battery is held to the board with plastic wire ties, secure it with a new tie before closing the can.
WARNING! When shipping by EMS or DHL, the batteries are removed from the device because shipping regulations prohibit shipping devices with rechargeable lithium-ion batteries. You need to buy such batteries in your country and insert them when you receive the device.